Nov. 4, wed., Bats for Lashes @ L'Olympia.
Nov. 4 " " Motorhead @ Zenith.
Nov. 4 " " Taga Party. Taga is a Paris-based artist-designer with a rocknroll edge. This night features an art expo, concert, and dj sets (DJ SF Sorrow's usual wednesday night rocknroll vinyl extravaganza at la Mecanique Ondulatoire is relocated to this event for this week). See more
here
.
Nov. 5 Thur Djay Indie Eclectique (D.I.E.) Le Grand Duc du Kansas's every other thursday soiree @ La Feline: Honky tonk, hellbilly, garage, soul, ska, blues punk,classic rock, classic punk, hard indie rock: from Hank Williams Sr to Hank III, The Sonics and Standells to the Black Keys and Black Lips, Etta James to the Bellrays, The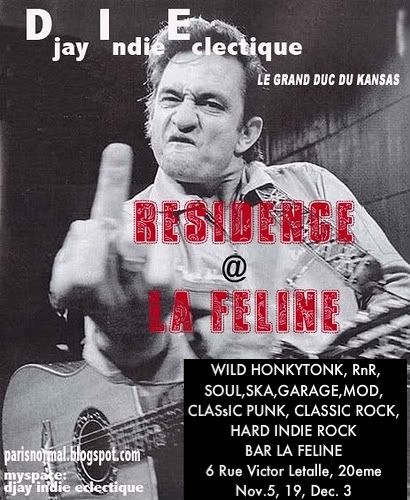 Stooges to the Eagles of Death Metal. See adjacent poster.
Nov. 5 "" Arctic Monkeys @ Zenith
Nov. 5 "" Festival des Inrocks @ la Cigale: Fredo Viola (hyped US singer-songwriter, multi-media artist); The Irrepressibles (London, performance art rock); The Bewitched Hands on the Top of Our Heads ( FR, psychadelic pop): This appears to be a promising and quirky line up. Fred Viola has a buzz as a distinctive singer-songwriter whose influences range from Bartok and Stravinsky to Belle and Sebastian, while The Irrepressibles are a London buzz for their wild hairdos and black-painted necks, stage choreography, and hard-to-classify music that is sometimes associated with names like Jeff Buckley and Antony and the Johnsons.
Nov. 6, Fri Festival les Inrocks @ la Cigale, The Black Lips, Little Boots, Eboy James, the Soft Pack:
Nov. 6, "" Festival les Inrocks @ la Boule Noire: The Big Pink, Chew Lips.
Nov. 6, "" Arctic Monkeys @ Le Zenith
Nov. 6, "" Chrome Hoof @ la Maroquinerie: If you like the post-post-rock orchestral, experimental thing, this may be your thing. Electronic, disco, metal, with saxophones, trumpets, guitars, bass and drum. Psychadelic, futuristic. Trailblazing? Annoying? you decide.
Nov. 6 "" Smash Album Release, live performance @ la Feline.
Nov. 7, Sat, Tribute to the Great Gene Vincent @ Le Picolo, in the Paris Flea Market (Marche aux Pouces) de St. Ouen, Metro Clignancourt.
Fantastic live lineup before the rockin sets by Dj SF Sorrow and Long Tall Dave: MOUSTIQUE (legendary 60's rocker), TONY MARLOW, THE SHUFFLE KINGS, LAURENT ZUCCARO, RAPHAEL (ATOMICS), RED DENNIS (
HOT ROCKS
), LITTLE
NICO, GWEN, VINTAGE BOB (who will play Dickie Harrell's drum set from 1956 !), ANDRAS MITCHELL
and others. The following afternoon, 4pm, you get a rocknroll party at la Mairie du 14eme, 12, rue Durouchoux. Metros Denfert Rochereau or Mouton-Duvernet. See posters below.