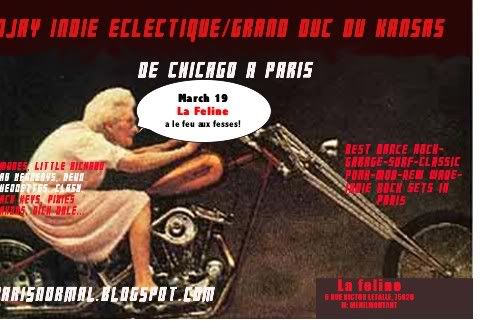 Guten Tag meinen leiblings!
Two weeks ago DIE, le Grand Duc du Kansas blew the roof off la Feline, 6 Rue Victor Letalle--the BEST ROCK BAR in Paris! He's back again this Thursday night for another vernissage. The night begins with a live garage band followed by DIE/Grand Duc at
10pm
. Punk is dead? Boff! Pearls of Hillbilly, Rockabilly, Psychobilly, Garage, Beginnings of Rocknroll and Ska, Soul, Jump Blues, Psych-rock, Surf, Mod, First Generation Brit, American, Australian and French Punk, Indie Rock. Hell yeah! Do shots with/and DIE!!!
La Feline, 10pm-2am
Also check him the following Friday night March 27 at Planete Mars, the best small rock bar in Paris!!!