Grand Duc returns to the Feline this Thursday for a vernissage/expo Viva le Foxy!
It's hard to beat the Feline in Paris, or anywhere, for good hillbilly, rocknroll, garage, surf, soul, cowpunk, classic punk, and it's hard to beat Grand Duc to bring it to you. What to expect Thursday: an early focus on 50s saxaphone driven rock, beginnings of Jamaican ska, some new mod gems.
Many unknowns, plus Hank Williams Sr., Eddie Cochrane, Fats Domino, Dave Clark Five, Johnny Cash, King Curtis,Wanda Jackson, Janis Martin, Sonics, the Dells, Prince Buster, The Ventures, Godfrey, Dr. Feelgood, Mott the Hoople, New York Dolls, the Dictators, the Germs, the Dead Kennedys, Wire, Gang of Four, DEVO, Thee Mighty Caesars, Holly Golightly, Pennywise, Rancid, Eagles of Death Metal, Jon Spencer, the Dirtbombs, the Black Keys...
Hillbilly, Rocknroll, Soulbilly, Surf, Garage, Mod, Classicpunk, Cowpunk, Insurgent country, INdie--Rockin, Groovin, Swingin, Soulful, and Fast.
The Vernissage starts at 6pm, so plenty early for you workin stiffs who have to rise and shine on Friday. The rockin will get pretty heavy by 10. Grand Duc/D.I.E.'s best set yet--GUARANTEED!
Djay INdie Eclectique, because tomorrow we D.I.E.
JH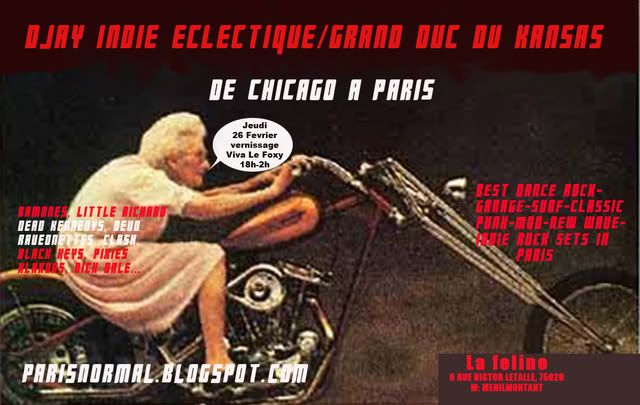 P.s. Mark your calendars for upcoming D.I.E. dates:
March 13
: at UFO New Wave/Old Wave dance party: Devo, Adam Ant, the Cure, the Human League, etc. meet Midnight Juggernauts, MGMT, Ting Tings, She Wants Revenge, the Sounds,etc.
March 26: Planete Mars: Voyage Rock n Soul
May 1
, International Labor Day/Fete Du Travail:Le Baron Samedi: African American Rocknroll, Soul, Garage, Mod...