5 Feb The Stranglers
L'Olympia
6 Feb The Grammatics
Fleche D'Or
7 Feb Islands( Anti-)
Montreal's Islands play a super catchy brand of slightly funked out indie rock. Compare to Franz Ferdinand, well if they had a violinist like Andrew Bird.
Fleche D'Or
8 Feb Sham69
Sham 69 (UK)
Sham 69 is a highly influential British proto-punk band formed in 1975 in Hersham, England. That's right they preceded the Sex Pistols. The Velvet Underground's John Cale produced their first hit single "I Don't Wanna" in 1977, resulting in a major label contract with Polydor. Their first major studio album Borstal Breakout produced two hit singles, "Angels With Dirty Faces" and "If the Kids are United," both of which have become legendary as obligatory reprises by countless followers over the past three decades.
Like many rock legends, the drama of breakups and reunions has often landed them at the center of the tabloid entertainment press. The most recent chapter of their breakup drama featured frontman Jimmy Pursey claiming that Sham 69 was breaking up because songwriter/guitarist Dave Parsons and drummer Ian Whitewood left the band. Parsons responded that the band left Pursey, and Parson's reincarnated band carries on in Paris this month.
The show takes place at the up and coming La Peña Festayre, on the border of the Parc de la Villette (Avenue de Flandres side). It's actually a Basque restaurant with a good-sized music hall attached (see photos here http://www.linternaute.com/restaurant/restaurant/3043/la-pena-festayre.html). The recent programming has produced an entertaining nostalgia for the first generation of British punk bands, the true contemporaries of the Sex Pistols, and thus seems to be laying claim to that niche market in Paris. Last month a huge show featuring old French and British punk bands included the UK Subs and The Vibrators. Nothing to sneeze at. Now they bring us Sham 69. Maybe you were always curious about what you might've missed back in '76-79 (whether you were of age or not). Not that this show will perform quantum physics, but some history will no doubt be showcased.
Sham 69, Pogomarto, Les Prouters, Pyranas and stilnox
La Peña Festayre, 32, avenue Corentin Cariou
75019 Paris
Sunday 8 February 2009 at 3:00pm, 6€ !!!
Sham 69 performing their classic "If the Kids Are United":
http://www.youtube.com/watch?v=31esOvVNnQU
La Peña Festayre

10 Feb Bloc Party
Sold out. Check Craig's List Paris and Les Inrocks online forum for scalpers.
L'Olympia

13 Feb Djay Indie Eclectique (DIE) at UFO: Special Friday the 13th Soiree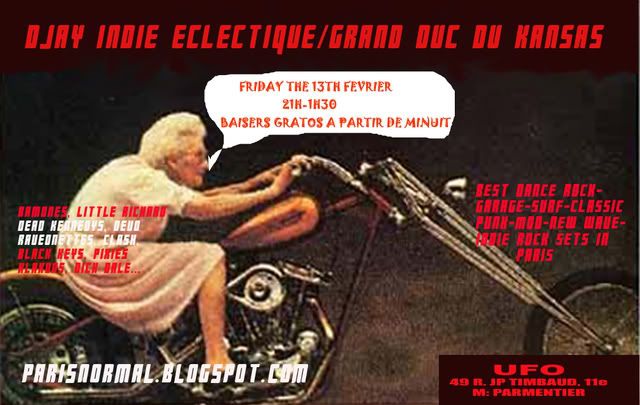 14 Feb Black Lips
Atlanta's Black Lips are an entertaining bunch of nuts known as much for their live antics and getting kicked out of places (even entire countries, like India) for their "vomiting, urinating, nudity, [and] band members kissing" (Wiki) as for their reliable brand of blues punk. Wear your body condom.
la Maroquinerie
16 Feb Woodpigeon
Pt. Ephemere
18 Feb Ra Ra Riot
The buzz is building for this Syracuse, NY band whose violin-tinged indie pop has a rumor of ARcade Fire, but in fact they really sound a bit like Islands, who come to town a week before them.
Fleche D'Or
18 Feb Lordi
Ha ha! Made you look! (For those not in on the joke, these guys were Eurovision champs a couple of years ago)
L'Elysee Montmartre
21 Feb,
Neko Case
(Chicago)
American (and Canadian-adopted) alt-country and -rock diva Neko Case has built a considerable following of critics, fans, and perverts over the last decade. She is perhaps the most important female vocalist to appreciate and master country, folk, and punk since Exene Cervenka http://en.wikipedia.org/wiki/Exene_Cervenka of pioneering 80s LA legends X.
Case learned her chops in Vancouver, CN punk bands in the mid-nineties while in art school, before launching a successful indie career as a soloist and with her Canadian band The New Pornographers. She signed on to Chicago's burgeoning "insurgent country" scene in 1997 with her luscious Bloodshot Records debut "The Virginian," and settled in Chicago three years later. Case's powerful alt.country vocals and feisty sex appeal have won her niche fan and critical attention, landing her regular performances on late night shows like David Letterman and a somewhat tabloid reputation for racy live shows.
In warm weather, she is accustomed to stripping down to her bra, an act rumored to have gotten her "blacklisted" from Nashville's Grand Ole Opry. The hype has only continued since Playboy magazine voted her "Sexiest Babe of Indie Rock" in 2003. Typical of her artistic integrity and DIY attitude, she refused to pose for the magazine, telling Entertainment Weekly, ""I didn't want to be the girl who posed in Playboy and then—by the way—made some music." She's touring her eighth solo album, Middle Cyclone, set to be relased March 3. Well worth
Solo: http://www.youtube.com/watch?v=9nBt_e9tzdQ
With NP: http://www.youtube.com/watch?v=XBAUQaj6EJo
Sat 21 Feb, Nouveau Casino, 19h30, 14,60 euros
23 Feb Skylarkin
Fleche D'Or
25 Feb Fleet Foxes
Fabulous. See my review
here
.
La Cigale
25 Feb Seasick Steve
La Maroquinerie
26 Feb Thur. M. Ward
M. Ward http://www.myspace.com/mward (Portland, OR; Merge Records)
M. Ward is seven solo albums old now, his first being released on Ow Om Records a decade ago by the multi-talented musician-impresario Howe Gelb. Since then Ward has risen to the gates of the singer-songwriter pantheon, thanks to his poetic flair, husky vocals, and memorable hooks. Known also for his collaborations with other indie favorites, Ward's appeared on albums with Cat Power and Jenny Lewis, and toured with Bright Eyes' Conor Oberst and My Morning Jacket's Jim James billed as Monsters of Folk. Last year, he recorded an indie-folk album with actress Zooey Deschanel as She and Him, which landed on a number of critics' annual top 10 lists. Ward rolls in on the wave of his February release Hold Time.
26 Feb, Café de la Danse, 20h.
26 Feb Friendly Fires, Secret Machines
La Maroquinerie
26 Feb Teenage bottlerocket
La Mecanique Ondulatoire
27 FebJ. Tillman
Fleche D'or
28 Feb The Spinto Band
Pt Ephemere
March 4 Emilie Loizeau
Alhambra
March 5 I am Kloot
Maroquinerie
March 6 The Datsuns
Pt. Ephemere