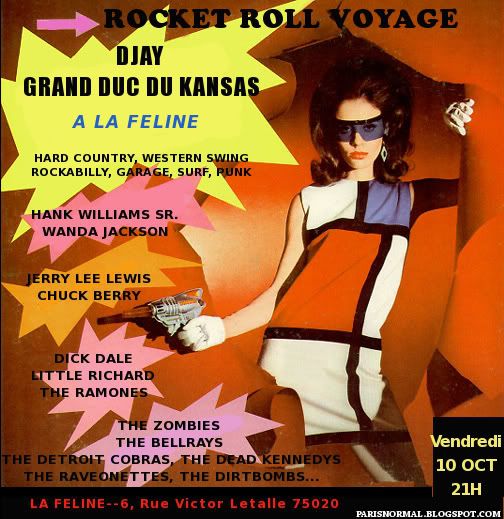 Monday Oct. 6:
Fargo All Stars at La Cigale à La Cigale
Joseph Arthur, Jesse Sykes & the Sweet Hereafter, Joseph Arthur & the Lonely Astronauts, Jesse Sykes. This fine Parisian label serves up a showcase.
Tuesday Oct. 7:
Jenny Lewis at la Maroquinerie: Great soulful, country-tinged indie folk from this Van Nuys, CA-Rilo Kiley frontwoman. She's just released a new album called "Acid Tongue." If you're open to smart song-writing, and toe-tappin twang for certain moods and times of the day (can we noodle around to Midnight Juggernauts or get whiplash to ACDC all DAY long, too?), she's worth a glance. The site of consolidated reviews (critics and listeners) METACRITIC gives her 7/10. Try to do better.
Wednesday Oct. 8
Frightened Rabbit
at La Maroquinerie. They're Scottish, damnit! See Dauntless Badger open.
Thursday Oct 9
Ladyhawke
at Pt. Ephemere (17euros): A rising Kiwi (NZ, dummy) electropop diva. Try the "Paris is Burning" track on Myspace.
Friday Oct 10 Rodeo Massacre at Fleche D'Or and Parisnormale's
Djay Grand Duc du Kansas
"Rocket Roll Voyage" at La Feline. Tough choice. If you're more of a rocker try the Duc. Or maybe just do both?
Saturday Oct 11:
Air
,
Salle Pleyel : Electropop weirdos, Air!
Sunday Oct 12
Gang Gang Dance
at Fleche D'Or: Much heralded group from New York Experimental electro-Rock, "neo-tribal" scene.
Monday Oct 13:
Tuesday Oct 14:
  Calexico, Get Well Soon at La Cigale : 

Calexico have a legendary sound, a brand: Southwestern, post-mariachi soundscapes threatening to go jam band on you.

Calexico was the brainchild of the classically trained musician Joey Burns and friend John Convertino, who met in 1990 in L.A. and then moved to Tucson, Arizona. Burns and Convertino had collaborated with Howe Gelb's fascinating indie experiment Giant Sand, and then the Tucson lounge act Friends of Dean Martinez. Calexico broke into the indie American (then world) music scene in 1996 with their highly acclaimed Spoke (on Germany's Haus Musik Records). They experimented with indie twang, balkan folk, spaghetti Western, and surf on that first album. It was decidedly indie experimental, with hints of Tom Waits, the Go-Betweens, and soundtracks to Emir Kusturica films. One might even say that since that first sensational album, they've been struggling to redefine themselves and never really completely succeeding. What they did well, they still do well. Their beloved core following in Paris packs big venues. Better move fast if you still want tickets.
Bloc Party at Le Nouveau Casino. This "indie" band that tore up the UK charts in 2005 after having pushed a demo on a BBC dj and the lead singer of Franz Ferdinand hits Paris this month upon the release of their third studio album,

Intimacy

.  They originally made their mark with choppy syncopated guitar riffs bearing comparisons to Gang of Four (as have a host of other bands--witness Forward Russia!). However, their second album mixed in more electronic layering over often Robert Smith-ish, mopey legato crooning. They claim the third album is a return to something rawer (by which one can hope they'll be exploring some bluegrass and jug music). Yet, the track they offer on Myspace ("Talons") sounds like its trying hard to seduce the electro crowd while maintaining the loyalty of their guitar rock phalanges. Take it for a ride yerself. This is a special barely announced concert. Tickets go on sale Oct. 13 on fnac.com for the concert the next day. Happy trails, hipsters!
Wednesday, October 15: Of Montreal
Of
Montreal
has mainly been the baby of talented
Athens, GA
native Kevin Barnes. Critics are mostly agreed that OM has been mostly fantastic. In last year's
Hissing Fauna, Are You the Destroyer?
release glum was never so much fun. Dark lyrically, but one would never guess by all the frenzied, highly danceable tempos. In the past year, OM have been experimenting with idiosyncratic song structures and styles ranging from surf to funk, while somehow maintaining the pop base that their fans adore. The highly awaited follow up,
Skeletal Lamping
, is set to be released October 21 but will grace the sound system and many ears of L'Elysee Montmartre even sooner.
Elysee Montmartre, 19h, 26,70euros
Friday October 17:
Swell
Swell formed in San Francisco in 1989 and under the leadership of David Freel emerged as a major band of the American indie rock scene in the 1990s. Freel's voice is a Lou Reed sound-alike, though he usually employs it in much tamer ways than his likeness, often only a decibel above a whisper. There's something gray, haunting, sometimes psychadelic, and deeply human in the lyrics and slow acoustic-layered compositions of Swell, like a poetic reflection on a warm fire, blankets, and hot drinks necessitated by the drone of drizzle, dampness, and a dark windy night. Ever sat around with friends, listening to captivating music, looking at each other, unable to speak a word? You follow? Compare to Smog, Silver Jews and Will Oldham. Also playing Emily Jane White.
La Maroquinerie 20h, 16 euros